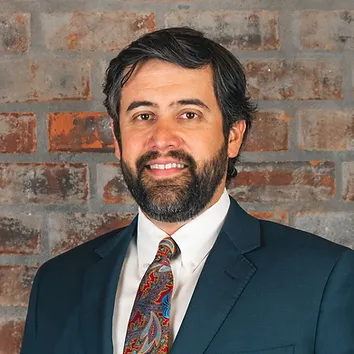 Brandon believes that relating to his clients in their time of need has proved key to his success, both in and out of the courtroom. Brandon's roots run deep in central Louisiana. He was born and raised in Cottonport and is the son of William "Scotty" Scott and Becky Michel Scott. Brandon met his wife Lindsay, while attending LSU. They have returned to his home town, to raise their daughters, Lillian and Lyla. Lindsay also enjoys her career as a local elementary school teacher.
Through hard work and discipline, Brandon finished law school Cum Laude and ranked in the top five of his graduating class. He began his legal career serving as law clerk for the Honorable William "Billy" Bennett and Honorable Mark Jeansonne. Brandon now focuses his practice on representing injured clients and family law matters. Brandon is an aggressive litigator, who has tried cases and obtained judgments exceeding $1,000,000.00.
Brandon is proud of the practice he has built representing injured clients. As a result of his aggressive representation and proven results, Brandon's existing clients prove to be his greatest source of referrals and new business.
"I just had to tell you again thanks so much. You are a 100 in my book. May God bless you and your family, the same way you bless me and mine. You should know how your hard work blessed my family. Thank you!!!!!." – Terrence
"How do I even begin to thank you. There are not enough words to express my gratitude for not only your hard work but also for believing in me. This has been such a difficult time in my life and you were there to support me with words of encouragement. I will never forget your hard work and your kindness. I will forever be grateful that you were in my corner, and my lawyer. Thank you so much, from not only me, but my entire family." – Brenda